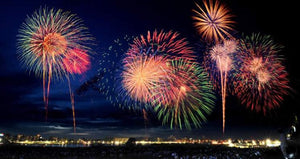 What's YOUR New Year's Tradition?
As another year comes to a close - it's time to celebrate new beginnings!
Here at the Haus, we have a lot of favorite New Year's traditions that link us back to our family ancestry - the American south, Scotland and Hawaii are just a few of the places that inform our celebrations!
We've written up a list of some Vegan favorites that we like to celebrate with and want to share them with you - the Haus family!
In the southeast US, no good Southerner skips on eating Hoppin' John and collard greens at midnight on New Year's Eve!  Hoppin' John is traditionally eaten to ensure a lucky and prosperous new year.  Made from black eyed peas and rice, it was originally a low country dish that spread to the rest of the South over time.  Here's a great Vegan version that you can make for your family!

In Scotland and the northern islands of the UK, they celebrate Hogmanay!  The origin of the word is not clear, but is believed to be of Norse or Gaelic origin.  In Scotland, it is traditional to visit friends and family to exchange gifts and eat traditional Scottish fare.  Here's a great guide to celebrating Hogmanay with a Vegan twist! 
In Hawaii, New Year's is an especially big deal with it's melting pot of Asian cultures!  Chinese immigrants brought firecrackers to the islands and it has become traditional for families to string them from tree branches and set them off at midnight - it gets crazy when the whole street is filled with smoke and noise!  The Japanese brought with them the tradition of making mochi cakes with family.  Pounding the rice is real work and perfect for gatherings to share the labor.  Here's a great mochi recipe and a link to some of the multicultural traditions that are celebrated on the islands.
What does your family do to ring in the New Year?  Let us know in the comments!
---
1 comment