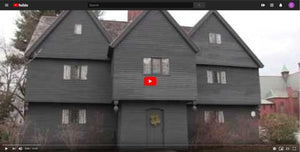 The Witchy-est Place In America?
It goes without saying that 2020 has pretty much turned everything in our world upside down.  For most of us, months of staying home and avoiding social gatherings has us feeling cooped up and ready for some new sights!  Unfortunately, it's still not a smart idea to be traveling or congregating in larger groups with the pandemic still in full swing.  So how is a person supposed to satisfy that itch to get out and experience the world?  Here at the Haus, we've become fond of "traveling via Google maps".  It's a fun (albeit virtual) way to check out some new scenery and get a glimpse into life in a new place.
One of the best features of a Google trip is that you can go wherever you want!  No need for a passport or expensive plane tickets - you can literally just spin the globe and go wherever your mouse point lands.  From the South Pacific to the American Southwest, it's all fair game!  Lately, with spooky season here, we've been fond of exploring places that have that Halloween flair - and what place has more than Salem, Massachusetts!
As most folks are familiar, Salem was the site of one of the larger and more infamous witch hunts/trials during the Puritan era of early America.  Salem's original claim to fame was as a busy Colonial seaport, but the witch trials of 1692 have since eclipsed this as the city's source of notoriety.  These trials started as a result of several young women in the community being discovered practicing "oomancy" which used eggs as a form of divination, similar to reading tea leaves.  This trial would escalate and envelope the entire community - in the end 19 people were executed by hanging.
In more recent times, the city has embraces its legacy with schools, parks and local sports teams often sporting witch-themed names.  Much of the local economy is reliant upon tourism and there are a number of "witch tours" that visitors can take to see the sites upon which trials and executions were held.
We've put together a list of a few of our favorite virtual tour resources that you too  can check out to get a glimpse of the "witchy-est place in America".  Check them out below!
The Salem Witch Museum offers a variety of online tours!
The Salem witch museum has a great online resource for virtual tours of the many witch trial sites in the city - you can select from a large number of historical spots to explore around the city.  They also offer a number of informational resources on the history of the area as well as teachable lessons for educators (which can come in handy if you are homeschooling little ones these days!)
In addition to the considerable resources of the museum, there are a number of video tours shot by visitors that can be found on Youtube and similar sites.  Our current favorite is a video tour of the Johnathan Corwin house.  This house is the lone remaining structure still standing from the times of the trials and offers not only a direct link to this chapter of our history, but is insightful as a glimpse into daily life in a bygone era.  This video is particularly enjoyable as the camera person does not talk during the video and you can enjoy it at your own pace.
 Take a trip to Salem this weekend, but leave the crowds and the stress behind with these virtual tours!
---