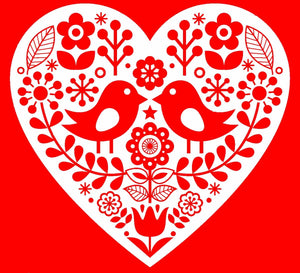 Valentine's At The Haus!
We are pleased to announce the lineup for our 2023 Valentine's Collection! All of your favorites are back along with new soaps, butterbombs and more! Don't wait for your sweetie to get the hint - treat yourself at the Haus!
Perfume Oil, Eau De Parfum, Pumpkin Butter, Hair Oil, Whipped Soap, Refresher Sprays, Bubbling Scrub and Sugar Exfoliants
By Candlelight
Warm candle wax and golden amber wrapped in cashmere accord and soft vanilla woods.
Come Hither
Bourbon vanilla, tonka bean, a touch of rose oil, Queen Elizabeth (orris) root, saffron and a touch of honey to sweeten the whole deal.
Cozy Rose (Limited Stock)
Cozy Sweater and our Rose City blended together harmoniously.
Epicurean 
Layers of chocolate and vanilla cake topped with crushed berry compote and whipped cream.
First Blush
Tahitian vanilla bean, white tea, lavender and peach.
Lily Cakes
Creamy white cake, lily of the valley, and exotic white ginger.
Superfreak
Rich vanilla, heady incense and a trace of red wine.
Who Needs Love
A mahogany box filled with chocolaty orbs, coated in crystallized coffee, filled with a pomegranate and raspberry filling.  With something this decadent, who needs love?
Perfume Only
Faunus (Limited Stock)
Dark chocolate, warm vanilla sugar, fir needle and aged patchouli.
Risque
Black leather, red musk, and red rose petals.
Conversation Hearts Perfumes!
Cutie Pie
Pink peony, blackcurrant and golden amber.
Hot Stuff
Dragon's blood incense, leather and red musk.
Kiss Me
The scent of vintage lipstick: powdery violet, rose petals and warm wax.
Hug Me
Cashmere accord, sweet amber and tonka bean.
True Luv
Soft musk and a bouquet of stephanotis and lilies
Sweet On U
Sweet and fruity Ruby Chocolate accord: pink berries, white chocolate and vanilla.
Be Mine
Dark chocolate, mahogany and a twist of lemon peel.
XOXO
Raspberry bubblegum, spun sugar and a hint of patchouli.
Butterbombs
Black Currant & Champagne
Pink Roses & Lychee
Red Velvet Cake
White Musk & Vanilla
Lip Balms
Chocolate Cupcake
Coffee Date
Strawberry Soda
Handmade Soap
By Candlelight
First Blush
Cutie Pie
Soy Wax Tarts
By Candlelight
Come Hither
Cozy Rose
Epicurean
First Blush
Lily Cakes
Superfreak
Who Needs Love
Soy Wax Candles
By Candlelight
Come Hither
Epicurean
First Blush
Lily Cakes
Superfreak
Who Needs Love
And as a special treat, by popular request, we will be doing a limited round of our whipped soaps in General Catalog scents.  These aren't normally available and won't be around long!
All items will be live in the shop at 9AM Pacific on Sunday, 1/22!  We can't wait to see you there!
xoxo
The Haus
---