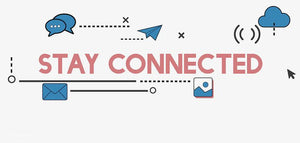 Top 5 Ways To Stay Connected
1.  Netflix Party
One upside to being stuck at home all day is finally having a chance to make a dent in your Netflix watch list!  Being separated from your usual video watching partners doesn't have to mean that you can't watch together virtually!  A new extension for the Chrome browser allows multiple users to watch the same synched video and chat about it while it plays!
https://www.netflixparty.com/
2.  Marco Polo
If you are like us and have friends and loved ones across the country, staying in touch can be tough at the best of times!  Marco Polo is a great way to do just that - you can share videos, texts and photos all in the same group chat!  No need to be live to share video calls, just pop in and keep everyone up to date on your latest happenings.
Download the app here:
https://www.marcopolo.me/
3. Settlers Of Catan Online
 One of our favorite ways to spend time with friends is a rousing game night!  Just because you can't get together in person doesn't mean that you can't still get wrapped up in your favorite boardgames!  Play Settlers of Catan virtually with your favorite people by logging into Catanuniverse and getting a game going!
https://catanuniverse.com/en/
4.  Cards Against Humanity Online
Times like these call for a bit of cheerful nihilism!  Laughter can be the best way to stay sane when the rest of the world feels like it is going mad.  One guaranteed way to get some laughs is a good game of Cards Against Humanity.  You can play virtually with friends by logging into Playingcards.io and getting a game started.  They also have a whole list of other popular card games that you can play with the whole family!
http://playingcards.io/
5. Instagram Together!

Instagram has launched a new co-watching feature!
The Co-Watching feature can be accessed by anyone participating in a video chat on Instagram — which can be started by tapping on the video camera icon in the top-right corner of any existing Direct Message. Once you're in the video chat, a photo icon should appear in the bottom-left corner of the screen to access the Co-Sharing feature. From there, you'll be able to choose from Instagram photos and videos you've liked and bookmarked, as well as suggested posts, to share with the group you're video-chatting.
How are you staying in touch during these times?  Let us know in the comments - we'd love to hear from you!
---