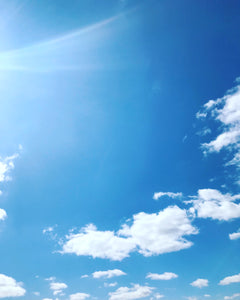 The inspiration for Zephyr: Nice weather, elderflower drinks and Animal Crossing?
Hi everyone! Heather here. Some of you might know me from Instagram or the Facebook group. I took over as fragrance creator last summer and I've been making new scents for Haus of Gloi ever since. I was working at the Haus for a year prior to the promotion and was a customer for many years before that! It's been an amazing journey so far and it's just getting started. :)

I usually stick to business on Instagram but wanted to use this space for more casual chats. I'm a fairly shy person for the most part, but I'm trying to open up a bit more! I figured I'd start my first blog post with chatting a little about one of my most recent scents for the Haus: Zephyr!
ZEPHYR:
"Zephyrus (Gk. Ζέφυρος [Zéphyros]), sometimes shortened in English to Zephyr, is the Greek god of the west wind or continental tropical air mass. The gentlest of the winds, Zephyrus is known as the fructifying wind, the messenger of spring."

I've been kicking around the idea for Zephyr since last year but wasn't quite sure which notes to use until recently. I love the concept of a gentle spring wind and honestly, I really just love the way the word sounds too. I actually named my Animal Crossing island Zephyr when I started playing in spring of 2021. (I was a little late to the party with that game, but I love it so much!) I decided that the Zephyr scent should be a reflection of my Animal Crossing island since they share a name.
The native fruit of my island is pears and the native flower is lilies, so those were the first to be included when I was developing the scent. I really love elderflower as a scent and flavor, and I thought that would be a nice addition as well. Apple blossom too because it was another soft spring floral and it reminds me of a perfume I had when I was a kid. For the actual wind, I used my favorite musk note to add a gentle softness overall. I really like how it turned out - crisp, fresh, and bright! An ode to spring and to the game that's brought me so much joy this past year.
My niece recently started playing as well and it's been so nice to be able to connect with her via the game, even though we're many states apart!
And speaking of elderflower, I recently picked up some elderflower drinks and they're both amazing! I did an elderflower & lemon butterbomb for the Spring Tonics collection, and it was the most popular of the bunch. I will probably bring that scent back for perfume and body products with our birthday collection later this month! I'm going for a picnic/garden party theme. Our Haus Birthday scent will be returning of course, along with other dessert scents, some fun beverage scents and more! I'm still finalizing everything, but we'll announce the full line-up soon!
That's all for now. I'm planning to do more blog posts in the future, probably once or twice a month, so I'll talk to you all soon!

💖 -Heather
---
3 comments