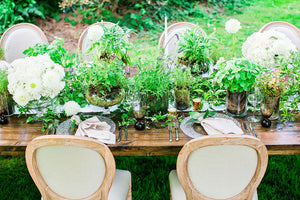 Summer Surprise!
It's a Summer Surprise at the Haus!  We are excited to offer a collection of 8 scents, four resurrected from summers past and four all new scents from our newest creator, Heather, this Sunday at 9am Pacific! 
For an extra bit of fun, we will also be releasing a limited edition collection of scents based around our favorite summer treat - Soda Pop!  Fizzy, fun and refreshing, the base accord of these scents utilizes the bubbly note from our popular summer scent Zazz. 
Pumpkin Butter, Bubbling Scrub, Soy Wax Tarts, Perfume Oil, Hair Oil & Eau De Parfum
NEW:
Asperitas
Dark, lingering clouds after a summer storm. Rain soaked grass, Egyptian musk, a touch of patchouli, bright flashes of lemon, and a sharp crack of pepper.
Hummingbird
Lightly spiced cake with pineapple, banana and pecans. Topped with vanilla frosting, honeysuckle blossoms and a drizzle of red currant nectar.
Lemongrass Ice Cream
Rich coconut milk ice cream infused with lemongrass and vanilla. Garnished with a lime leaf.
Sunbeam
A haze of pure golden light. Warm amber, sun-dried corn stalks, mimosa flowers, fenugreek absolute, and shimmering aldehydes.
Returning:
Boca Chica
Rich gardenia blossom, red mandarin, coconut cream and ripe banana.
Insalata Nocturna
In the night garden, green Bolivian lemon, rubbed tomato leaf, black fig syrup and basil.
Lassi
Cool, fresh mango cream, Tunisian orange blossom absolute, black ginger to ground, splash of green tea and a soft squeeze of lime juice.
Picaroon
Sun scorched mahogany bough crusted with a crystalline sea spray! Faint plundered rare spices. Lemongrass, coconuts, fine Mexican lime and Haitian bay rum.
Soda Pop Perfumes!

Bubblegum Soda
Bubbly bubblegum with a hint of cotton candy.

Tamarind Soda
Uniquely sweet and sour with a touch of brown sugar.

Peach Pear Soda
Juicy peach and mellow pear. 

Yuzu Melon Soda
Green honeydew melon with yuzu citrus.

Pineapple Mango Soda
A tropical blend of golden pineapple and mango. 

Blueberry Pomegranate Soda
Jammy blueberries and tart pomegranate. 

Raspberry Rose Soda
Red raspberries and pink rose petals. 

Lemon Lavender Soda
Refreshing lemon and soothing Bulgarian lavender.
All items will be live in the shop at 9am on Sunday, 7/25 - we can't wait to see you there!

The Haus
xoxo
---
1 comment