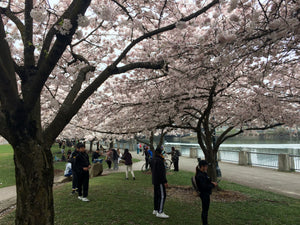 Spring is blooming in Portland!
(cherry blossoms doing their thing at McCall Waterfront park, with the Steel Bridge in the background)
Spring has arrived in the Pacific Northwest and the blooms are out in full force! All over Portland trees are blossoming! Arguably the most iconic area to bear witness to this is on the north end of Tom McCall Waterfront Park. In this area sits the Japanese American Historical Plaza, and just north of the plaza are one hundred ornamental cherry trees. April is the absolute best time to check out this area of the waterfront! Evidenced by the crowds of tourists and locals I saw in the area as I biked along the river earlier this week. Check out the photos below from a typically mild and overcast April afternoon.
Spring products will be in the Haus Sunday April 7th!
(was really hoping for a sun break here)
(surprisingly crowded for a Monday afternoon)
(looking south towards the plaza)
(blossom tunnel)
(Okay this isn't the waterfront and they're not cherry blossoms, but these vines outside the front door of my modest triplex apartment are pretty great! Most years they bloom in late February or early March, so better late than never. My doorway smells fantastic right now.)
---
1 comment