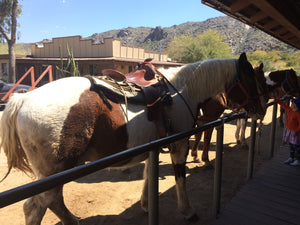 I rode a horse!
(say hi to my friend Cocoa)
For most of my life I've enjoyed the advantage of having family to visit in the great state of Arizona. And since my parents moved there permanently in the late 90's it's been home for me for all intents and purposes. I've had two separate stints living  there as an adult and know the Phoenix area well. With that said I still get a kick out of taking a break from the Pacific Northwest to visit and take in some sun and desert vistas.

Last Thursday my partner and I flew down for an extended weekend. A little spring break if you will. And in the midst of catching up with family and friends and exploring some new restaurants and breweries we took a little time on Saturday afternoon to do some horseback riding, which was a wholly new experience for me. I didn't really have much in the way of expectations, except that it'd be a leisurely stroll along the trails of South Mountain and I'd just be riding a horse that was following our experienced trail guide. And for the most part that was the case. What I didn't expect was that my horse would be almost absurdly slow and at some points unreasonably stubborn. It wasn't a big deal to me though and I thoroughly enjoyed the experience! It's something that I look forward to trying again, and the best part is I wasn't nearly as sore the next day as I had anticipated. I must be in decent riding shape from commuting by bicycle all the time.
---