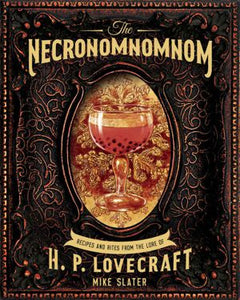 Spooky Cookbooks!
You've waited all season for the best night of the year, but it's 2020, so of course most of your favorite Halloween activities are cancelled! What's a fan of the season to do?
Here at the Haus, we are celebrating at home with folks in our bubble, so it's time to kick up the home celebrations a notch with fun, unusual and spooky dishes inspired by some of our favorite movies, tv shows and authors. We've listed our top 5 cookbooks to help get you inspired to create your own "haunted haute cuisine"!

*The list of creepy Vegan cookbooks is pretty darn short, so substitutions will be necessary with a lot of these recipes!

This book is probably the "punniest" of the lot.  With recipes inspired by the writings of the great H.P. Lovecraft, this cookbook doesn't shy away from the corny jokes or fear getting a little bit gross.  The illustrations are to die for and make this book the perfect gift for any fan of Lovecraft or horror in general.
Few TV shows become institutions the way that Supernatural did.  For an astounding 15 years, this show created its own highly developed universe.  The perfect treat for any fan of the show - this book centers less on creepy recipes and brings to life many of the dishes that the brothers Winchester ate during their adventures across the Midwest. 
Definitely the most Vegan friendly of the bunch!  This book features Vegan versions of every recipe for easy substitution.  This book was inspired by the menu of the Beetle House gothic-themed restaurants in New York and Los Angeles.  Perfect for any Tim Burton fan, this book is full of recipes that are both creepy and delightful and even includes a section on planning your own nightmarish dinner party!
This is definitely the most fun of the bunch - if you have kids that will need alternate activities this year, this book is just what you need.  Youngsters will love the "gross out" factor and parents will appreciate the easy to follow instructions and photo guides that make this book perfect for new chefs.
Vincent Price needs no introduction when it comes to his contributions to the genre of Horror film making.  What many do not know was that he was a notable gourmet and champion of home cooking - even writing a cookbook in the 70's.  This volume is a collection of many of his favorite recipes from his BBC cooking show "Cooking Price-Wise".  Filled with historical facts about the featured dishes and anecdotes about the man himself, this book is perfect of fans of vintage horror films.
We hope these books give you a head start on planning your own spooky celebrations! 
---
1 comment