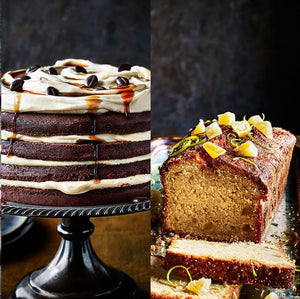 Smells Good Enough To Eat!
The advent of modern industrial chemistry has opened up a vast array of new scent possibilities in the world of fragrance.  Traditionally, perfumes have consisted of extracts of natural, biological compounds, which limited the scope of fragrances notes that a perfumer had available to work with.  Our historical scent preferences followed accordingly, with the obvious florals and resins becoming the most common themes in popular fragrance.

At the end of the 19th and beginning of the 20th centuries, however, scientists began to discover and distill the compounds that created the fragrance notes of a wide variety of non-botanical fragrances.  

Though they now have their own "modern" scent family, early gourmand scents were considered a brance of the "oriental" scent family when they first emerged, due to their common usage of vanilla, benzoin and tonka bean notes.  The introduction of vanillin, the artificial compound that replicates the scent of vanilla was one of the earliest advents that led to the development and popularity of Gourmand perfumes.  As early as 1925, Guerlain's Shalimar utilized these new notes to create what is considered by many to be the definitive vanilla perfume.

Shalimar by Guerlain, the "original" vanilla perfume.
Despite their popularity, most traditional perfume houses did not dabble heavily with these new scents.  Most perfumers had a few blends that would utilize a note or two, but it was not until 1992 when Thierry Mugler debuted Angel, that the notion of a true gourmand perfume came into the spotlight and changed the face of the commercial fragrance market.

A true Gourmand fragrance is typically structured around a fairly standard set of base notes such as patchouli, sandalwood or musk.  These are then layered with top and middle notes consisting of "edible" scents - notes that are derived from food, particularly sweets and baked goods.  Gourmand perfumes are commonly referred to as "foodie" scents for this reason.  

Angel by Thierry Mugler, the definitive modern Gourmand.
As they are inspired by foods, these blends tend to be heavier, richer and sweeter than many more traditional perfumes.  These fragrances are intended to evoke many of the feelings of comfort and security that come with the experience of eating our favorite indulgent sweets.  To offset the sweetness and add complexity, most gourmands include a few contrasting notes that serve not only to balance the fragrance, but to actually highlight the food notes in the blend.  

The world of fragrance is ever changing, with fashions and tastes evolving and our knowledge of olfactory chemistry improving over time, Gourmand perfumes have branched out to include not only the more obvious food scents, but an entire range of exotic and sometimes downright weird perfume blends.
---
1 comment