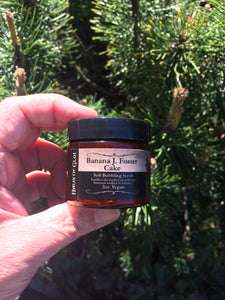 My Fragrance Is Back In The Haus!
(BANANAS AND BOOZE!)
A few years back we came up with a banana themed fragrance and the joke around the office was that we'd incorporate my moniker in the title of the scent. Since I'm occasionally inclined to self aggrandizement I'm happy to report that Banana J. Foster Cake has returned and is available in MOST products over in our shop! I particularly enjoy the bubbling scrubs, as pictured above.
---