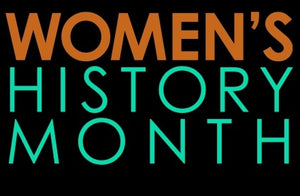 March is Women's History Month!
Last year for our March product release Jen came up with an idea for something a little bit different. Offering fragrances that honored Women's History Month with a specific focus on women from Oregon who've made an impact historically, socially and culturally. It was an opportunity to experiment with some different product offerings and scents while also shining a light on historical figures that have helped shape the state that we love. Some fragrances were limited to just one specific product like room sprays and bathing dust. Others were available in the standard perfume, pumpkin butter, soft bubbling scrub and whipped soap.
This year we've expanded the core fragrances to fourteen, and while there are many that are making a return, some didn't have quite as high a profile last year as others. In the coming weeks The Haus Herald will be focusing on these women of historical importance and their associated fragrances, including two new offerings inspired by a pioneer in Oregon politics and a best selling author!
Our Women's History Month release goes live this Sunday March 3rd at Noon PST!
---