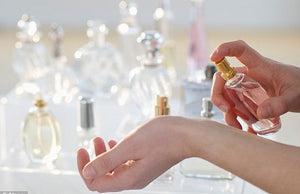 Layering Accords From The Haus!
This Perfume Only fragrance collection is a further exploration of the Layering Accords concept. All of the following accords have been created especially for this collection and are distinctly different from accords used in other Perfume Only collections or the Custom Perfume notes. Created to stand alone, layer with each other, or layer with the accords in the main collection. 
Available in Perfume Oil, EdP, Pumpkin Butter, Bubbling Scrub, Whipped Soap and Hair Oil:
Birthday Cake
- White vanilla cake with a thick layer of buttercream frosting.

Vanilla Bean - A balanced blend of 5 varieties of vanilla, resulting in a rich and true vanilla.

Marshmallow - Our very popular marshmallow note now has the opportunity to stand alone in the spotlight. Fresh marshmallow, right out of the bag.

Lavender - A blend of Bulgarian and Oregon lavenders with supporting notes of blackcurrant and a trace of lemon.

Moss - Soft green forest moss covered in morning dew.

Sandalwood - Warm, sweet sandalwood with bare touches of sea air and salt.

Nag Champa - Nag Champa incense rounded out with golden amber.
 
Rose
- Fresh rose brightened with notes of freesia and lychee. 
Available in Perfume Oil, EdP & Hair Oil:
Tea
- A cup of strong black tea with a scoop of white sugar.

Honey - Pure golden honey with touches of beeswax and dandelion.

Brown Sugar - Dark brown sugar melted with butter and milk and caramelized to golden perfection.

Sweet Cream - Fresh milk swirled with tonka.

Leather - Worn leather, gunpowder, and a touch of frankincense.

Amber - Golden amber, Egyptian amber, and White amber with supporting notes of copal, benzion, and oak.

Cedar - Just like the inside of a new cedar chest.

Strawberry - Ripe strawberries still in the field with trace notes of dirt and rain.
A few of my favorite combinations:
Cedar+Strawberry. Brown Sugar+Amber. Tea+Honey+Sweet Cream. Leather+Cedar. Strawberry+Tea. 
Including Layering Accord perfume oils from the main collection here are a few more ideas:
Sweet Cream+Marshmallow. Amber+Rose. Leather+Sandalwood+Lavender. Birthday Cake+Strawberry. 
---