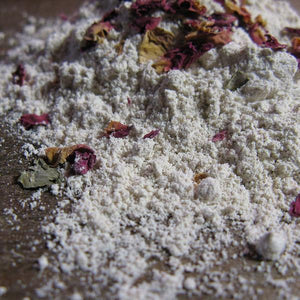 It's A Body Powder Bonanza!
It's time for a Body Powder Bonanza!


We have gathered up a selection of our most popular Body Powder scents from past seasons and will be offering them up in limited quantities this Sunday. If you have been thinking about trying Body Powder from the Haus, this will be the best time ever!
Stock is limited to items on hand, so be sure to swing the Haus today!

This lineup will include:
Midsummer Reverie:
Ferntree Gully - Lush green fern fronds, humid air, and smooth stone.
Flower Garden - Victorian violets, lemon tea cakes, candied rose petals, and raspberry jam.
The Garden of Earthly Delights - Soft amber bear musk, playful porcupine spike of pineapple, and crumbled leaves.

Great Barrier Reef Fishes - Yellow pear, shiny red apple, passionfruit, apricot, and crystal clear ocean water.

Storm Phoenix - Stormy seas lashed with fiery red phoenix musk, streaked with blood orange and wild cherry.

Tulipe - Creamy white vanilla, antique lace, a sprig of rosemary and a a tulip bulb powdered with damp earth.
Valentine's:
Come Hither - Based off of traditional herbs and roots used in Hoodoo to draw and attract a lover, or entice the one you've already ensnared! Bourbon vanilla, tonka bean, a touch of rose oil, Queen Elizabeth (orris) root, saffron and a touch of honey to sweeten the whole deal.
Cozy Rose - Cozy Sweater and our Rose City blended together harmoniously
First Blush - Tahitian vanilla bean, white tea, lavender and peach.
Layering Accords:
Birthday Cake
- White vanilla cake with a thick layer of buttercream frosting.
Rose - Fresh rose brightened with notes of freesia and lychee.
Summer:
Driftwood - Sun bleached driftwood, dry black musk, warm sand, dune grasses and a damp oceanic breeze.
Summer Dress - Clean cotton, lily of the valley, peach nectar, and Chinese peony blossom.

Grapefruit Tea - Pink grapefruit, green tea, bergamot, and Egyptian musk.
Brier Path - Sun drenched trail leading to a day dream of ripe berries and wood rose, rich forest loam, ozone, dark amber and cream.
Milk Bath - Tonka beans steeped in sweet milk and honey accord.
Lemondrop - Freshly squeezed lemon juice with a touch of lemongrass and little hint of honey.
Marshmallow Rose - Homemade marshmallow and rosewater.
Flutterby - Clean cotton, warm summer winds, and linden blossom.
Other Scents:
Cedar & Sandalwood - Dry cedar and warm sandalwood. 
Honey & Patchouli - Fuzzy sweet honey and soft earthy patchouli in just the right balance. (I'm beyond excited about how this turned out, if it sounds like something you would like, try it! It's amazing.) 
Ghost Puffs
- Orbs of buttery popcorn and marshmallow goo, presented on a wooden stick.

Honey Love - Golden honey, sweet cream, pink carnation, and vanilla musk. 

Ursula - Chocolate covered patchouli, dark sandalwood, oakmoss, and blackened resins. 

Splendiferous - White cake, lemon zest glaze and sugared violets.

Haus Birthday - Wild Cascadian huckleberries, butter cream frosting, clove spiced cake and wisps of incense all grounded into a base of our Haus Amber.
---