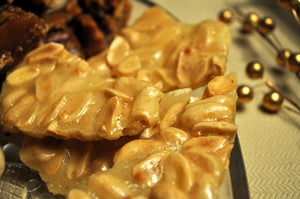 Holiday Treats!
Happy Holidays Hausketeers!

Matt here!  One of my favorite things about the holidays is making gifts.  I come from a pretty crafty family - handmade Xmas presents are one of our big traditions.  They are a great way to spend time with family, are extra special and are a great way to keep your holiday budget under control.

My big thing is holiday cookies - every year I spend and entire Sunday in the kitchen making batches of cookies and treats to box up and send to my favorite people.  I especially enjoy finding Vegan versions of my favorite childhood treats!

This year, I thought it would be fun to share some of my favorite recipes with you all - I hope you enjoy them and maybe start some holiday baking traditions of your own!

My baking list this year included the following recipes for chocolate chip, double chocolate and sugar cookies as well as peanut brittle (a first for me - I was really happy with how it came out!).  You can find directions and ingredient lists below.

Happy Baking!

Matt
Vegan Peanut Brittle
Ingredients
1 c sugar
½ c light corn syrup
¼ c water
1 tsp vanilla or molasses
½ tsp salt
2 c unsalted peanuts
2 tbsp vegan butter, melted
1 tsp baking soda
candy thermometer
Instructions
Turn your oven up to 300°F and place a greased jellyroll pan on the bottom rack while you prepare the brittle. Turn the oven off when the pan is hot to the touch; this will allow the brittle to spread nicely.
In a medium saucepan, combine sugar, corn syrup, salt, water, and molasses if using.
Bring to a boil, stirring to combine.
Once sugar has dissolved, stir in peanuts.
Stir until mixture reaches hard crack stage (300-310° F; a drop of it in a cup of ice water will be brittle and break easily, without bending).
Turn off heat, stir in margarine and soda and vanilla (if using), and pour onto prepared pan.
Gently tilt pan from side to side until candy has spread to desired thinness.
Allow to cool completely.
Break into pieces.
Vegan Chocolate Chip Cookies
 Ingredients
½ cup coconut oil
1 cup brown sugar
¼ cup almond milk
1 tablespoon vanilla extract
2 cups all purpose flour (please note alternate flours WILL change the outcome of the recipe!)
1 teaspoon baking soda
1 teaspoon baking powder
½ teaspoon salt
1 cup vegan chocolate chips (Trader Joe's chocolate chips are accidentally vegan!)
Instructions
Pre-heat oven to 350 degrees
Cream (aka thoroughly mix) together the coconut oil & brown sugar, then add the almond milk & vanilla. The mixture may be really "liquidy" this is OK.
In a separate bowl mix the flour, baking soda, baking powder and salt.
Combine the wet & dry ingredients (it WILL BE crumbly - this is OK), then fold in the chocolate morsels & any other mix-ins of your choosing.
Roll into Tbsp sized balls & place them on an ungreased cookie sheet (or on a sheet of parchment paper on the baking sheet), then flatten them out a bit with your palm. The dough may be a little crumbly, but just smoosh it together and it will work fine!
Bake for 7-10 minutes. (I did 8 which was perfect)
Vegan Sugar Cookies
For the Cookies:
1/2 cup

(112g) Vegan Butter

3/4 cup

s (150g) Sugar

1 tsp

Vanilla Extract

1/4 tsp

Almond Extract

2 cup

s (250g) All Purpose Flour

1 tsp

Baking Soda

1/4 tsp

Salt

2 Tbsp

Soy Milk (or other non-dairy milk)
For the Decorating Frosting:
1 cup

(120g) Powdered (Confectioners) Sugar

1/2 tsp

Vanilla Extract

1 Tbsp

Soy Milk (or other non-dairy milk)
---
Instructions
Preheat the oven to 350°F (180°C)
Cream the vegan butter and sugar together and then add the vanilla extract and almond extract.
Sift the flour into a mixing bowl and add the baking soda and salt.
Add the dry ingredients to the wet and mix in by hand until crumbly. Add soy milk and mix in to create a big ball of dough. If your mix is too crumbly to form a ball of dough, add in a little more soy milk until it does.
Flour your hands and a baking mat and transfer the ball of dough to the baking mat.
Use a rolling pin to roll out the dough to around 1/4 to 1/2 inch thick, dip a cookie cutter into flour so it doesn't stick and cut out your cookies. Transfer the cookies to a parchment lined baking tray. With the remaining dough, form it into a ball and then roll it out again and repeat.
If you want round cookies and don't want to make shapes, then you don't need to roll out the dough, you can simply tear off pieces of the dough and roll into balls and place the balls onto a parchment lined baking tray. Flour the bottom of a glass and use that to press down on the balls to flatten them neatly before baking.
Bake in the oven for 10 minutes.
Remove from the oven and allow to cool completely before decorating.
Prepare your decorating frosting by adding the powdered sugar, vanilla and soy milk to an electric mixing bowl. Start on low speed and gradually increase speed until smooth. If you need a little more soy milk then add it a drop at a time so that you don't use too much. The consistency will be very sticky, almost gluey. Separate into 2 bowls. Add a drop of food coloring into each bowl and mix in.
Decorate the cookies and allow to set before serving.
Vegan Double Chocolate Cookies
Ingredients
1/2 cup

coconut oil (

105

g), solid, not melted, see notes

3/4 cup

brown, cane or coconut sugar (

135

g)

1 tsp

 vanilla extract (optional)

3/4 cup

unsweetened plant milk of your choice (

190

ml), I used soy milk

1/2 cup

unsweetened cocoa powder (

40

g)

1 tsp

baking soda

1/4 tsp

salt

1

and 3/4 cups whole wheat flour (

210

g)

1/2 cup

vegan chocolate chips (90 g) +

2 tbsp

for topping your cookies, (optional), see notes
Instructions
Preheat the oven to 350ºF or 180ºC.
Add the coconut oil and the sugar to a bowl and mash them with a fork until well combined. You'll get a creamy mixture, with no coconut oil chunks.
Add the vanilla extract, milk and cocoa powder. Mix until well combined.
Add the baking soda and salt and mix again.
If the temperature is warm where you are, chill the mixture in the fridge for 15-30 minutes to firm up, or the cookies will flatten and spread too much when baking in the oven. If it's cold where you are, just omit this step.
Add the flour and stir again. Then add the chocolate chips and stir until just combined (don't over stir).
Make balls with your hands, place them onto a lined baking sheet, press them down a little bit and evenly distribute them, about 2 inches or 5 cm apart because the cookies will expand in the oven. I like to add more chocolate chips on top before baking, but it's up to you.
Bake for 12-15 minutes (my cookies were ready in 15 minutes) or until lightly golden brown and the tops look set. Let them cool for 5 minutes on the baking sheet before transferring them to a cooling rack and then let them cool completely. If you don't have a cooling rack, just use a dish or what you have on hand.
Keep the cookies in an airtight container at room temperature or in the fridge for up to 1 week or in the freezer for 1 month.
---