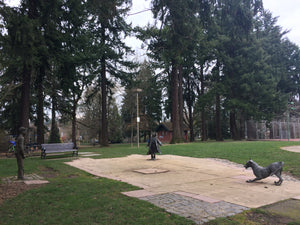 Grant Park and the Beverly Cleary sculpture garden
(The Beverly Cleary sculpture garden) 
Beverly Cleary is an award winning writer of children's books and young adult fiction. Born in McMinnville, OR her family moved to the Grant Park neighborhood in northeast Portland when she was six years old. The area would be the setting for most of her books and is the site of a K-8 school that is named after her, as well as a sculpture garden that was dedicated in 1995. Cleary won the National Book Award in 1981 for 'Ramona and Her Mother' and the Newberry Medal in 1984 for 'Dear Mr. Henshaw'.
Growing up with an active imagination in the upper Midwest I caught the reading bug at an early age. I was enthusiastic about Dr. Seuss and Garfield cartoon books. In grade school I had moved on from picture books to early reader story books. Along with Judy Blume and Matt Christopher, Beverly Cleary was an author that I was exploring extensively by the time I was in third grade. It's a funny twist how at that age I was barely aware of Portland as a city, and my knowledge of Oregon didn't extend much beyond playing the Oregon Trail computer game and the limited lessons given in U.S. geography. As it turns out I was learning about Portland and the Grant Park neighborhood through the lens of Cleary and her famous characters some twenty plus years before I moved here as an adult. 
(sculpture of Ramona Quimby)
I'd driven and biked past Grant Park and the sculpture garden numerous times over the years, but I only recently went and checked the place out. Framed by majestic fir trees and a playground to the north and Grant High School to the south and east, the area is surprisingly quiet considering the proximity to busy 33rd Ave and the Banfield Expressway. The three bronze statues were created by Portland artist Lee Hunt and depict Cleary's most well known characters: Ramona Quimby, Henry Huggins and Henry's dog Ribsy. The sculpture garden also features a splash fountain that operates during the summer months.
The afternoon I visited happened to be President's Day, and things seemed quieter than normal for late afternoon in the park. As I sat on a bench and worked a crossword a family with a girl of about six or seven approached the statues to get a closer look. I got a laugh when the girl acted like she was riding Ribsy like a horse and yelled, "Giddy-up puppy!" I chuckled as the other adults looked on in consternation, and I couldn't help thinking that was the spirit of Ramona Quimby at work.



---