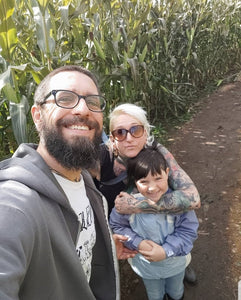 Going Vegan Part 2
Going Vegan pt 2

Jo Case

It has been two weeks now and things are feeling really good!

The most notable achievement has been a break through in one of my weightlifting
personal records. I have been attempting to break 300 lbs on my deadlift for at least
6 months, if not longer. This last week I pulled 305 lbs and it was kinda easy! If you
need proof, check out the video on Black Rose Fitness Society's Instagram. I was
laughing afterwards!

Generally after finding a new maximum, I feel wrecked for a few days. Not only did
the lift feel good but my recovery was no big deal either. I felt fine and didn't
encounter the soreness or fatigue I had become accustomed to with heavier lifts.
The only difference in my life has been my diet.

Now about food!

We had the most amazing Mac and Cheese at Vtopia the other night. We also
snagged a few different flavors of the house made cashew cheeses and a slice of
chocolate raspberry pie that was mindblowing!

Even E, my partners 7 year old, is on board with our new plant based diet. They
made some amazing roasted veggie samosas together on Sunday. We are getting
back into cooking, which helps make our house feel like a home and brings
excitement back into eating.

We are looking forward to exploring options to share with my family for the
upcoming holiday dinners. My mother doesn't eat dairy and we think some vegan
cheeses we are bringing are going to blow her mind!

I am continuing to notice an upward trend physically and emotionally. I just feel
better, and I hope to see that continue.

That's it for this week
Jo
---