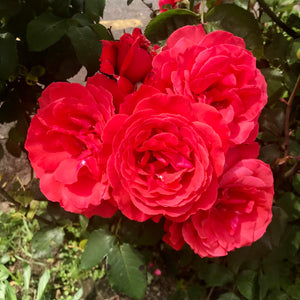 Florals for everyone!
Hello again! Today I'm chatting about florals. I know floral perfumes can be very polarizing, but I like to think that there's a floral scent out there for everyone! 
💐
I may be a little biased because flowers were a big part of my life for a while. I took a floral design program after high school and worked at a flower shop for several years. I have lots of great scent memories from my time as a florist and I still work with flowers from time to time, just in scent-form now!
Some of the most memorable scents of cut flowers and greenery from the shop:
Mimosa/Acacia - Not a flower we normally carried but we ordered it in for a wedding and it's been my favorite flower since! Soft, sweet, slightly powdery and honey-like.
Carnation - Strong, creamy and a little spicy. This is the main scent in the air at many flower shops.
Stargazer Lily - One of the strongest lily scents. Heady and always smelled almost savory to me.
Stephanotis - A very popular wedding flower. Fresh and soothing with a bit of a wintergreen scent.
Myrtle - A type of greenery that smells like Fruit Loops when the stem is cut!
Hypericum Berries - Butterscotch!
Stock - Cloves!
That's me in the middle (with the dark hair) at my flower shop job over 15 years ago!
I love working with floral scents, especially ones that can be nostalgic. I think everyone has a flower or two that they remember fondly. We had peonies and lilacs in the backyard of my childhood home, and my nostalgia for those scents is what inspired Cottage Flowers from our Birthday Collection! I ended up adding a few more flowers (sweet pea and wisteria) to really round out the scent. It turned out to be the fan favorite of the collection, so perhaps those are nostalgic for a lot of you as well!


A trio of florals from the Garden Party collection!
The floral notes I've worked with in my blends at the Haus (so far) are:
Honeysuckle, Mimosa/Acacia, Rose, Lavender, Peony, Violet, Stephanotis, Lily, Geranium, Magnolia, Elderflower, Apple Blossom, Blue/German Chamomile, Lilac, Wisteria, Sweet Pea.
(And more to come!)
I'm a big fan of floral beverages too - cherry blossom La Croix, elderflower lemonade, hibiscus tea, lavender lattes - all amazing!
So I'd love to hear from you! What are your favorite flowers? Are there any floral scents that are nostalgic for you? Are there any floral notes in perfume that you love (or loathe?) Do you like flowery drinks too? Lemme know!
💐💖 -Heather
---
2 comments