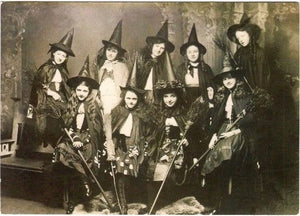 Fall 2020 Lineup Info
This Sunday, August 30th, the Haus is pleased to offer the first part of our Fall release!  This is our favorite time of year and we are excited to bring back all of our most classic Fall scents.  The Fall collection will be available in the shop starting at 9AM Pacific.
We can't wait to see you there!


The Haus
xoxo
Pumpkin Butter, Bubbling Scrub, Perfume Oil & Eau De Parfum
Ghost Puffs
Orbs of buttery popcorn and marshmallow goo, presented on a wooden stick.
You've been bewitched! Brackish amber, aged vanilla bean and three dark fruits, veiled in darkness and otherworldly secrecy.
Olde Cider Haus
Old oak, sweet drying hay fields, crushed apple pulp and vanilla husks.
Persephone's Descent
Pomegranate, pale musk, narcissus blossom and black amber. 
Pumpkin Eater
Oat milk, pumpkin pulp, vanilla bean, and a tiny touch of nutmeg butter. 
A note about the 2020 Pumpkin Eater reformulation: Several years ago a key pumpkin note in this blend was discontinued. Since then I've been on a long hunt for a replacement note that would stay true to the spirit of the original. This year I think I've finally found it and I am pleased to once again offer this fragrance in the Fall lineup.
Gentle hay pillows, pumpkin, ripe peaches dusted with clove and nutmeg, dried summer herbs and lastly, a lovely crown of amber.
Red Roan
Fresh strawberry flecked porridge with maple syrup and adulterated with a splash of white cognac.
Dried corn husks, dust, straw, weathered wood and a ruffle of inky black feathers.
Body Powder
Ghost Puffs
Orbs of buttery popcorn and marshmallow goo, presented on a wooden stick.
Graveyard Dust 
A thick carpet of moss, scattered dry leaves, and the faint scent of flowers on the breeze. 
Fancy Witch
White amber, clary sage, and silver lavender buds. 
Pumpkin Peach
Glowing vanilla pumpkin and sweet ripe peach.
Layered Candles
Layered candles are back for Fall! These lovelies are truly an atmospheric treat. Housed in glass cauldron shaped containers with metal lids they hold 7.5 ounces of fragranced soy wax and burn for 35 hours or more with regular wick trimming.
Welcome To My Parlor
The top layer opens up with relaxing soft lavender, leading to warm sandalwood, and finishes with deep mahogany mingled with leather. 
The Great Pumpkin
A pumpkin extravaganza! The top layer opens with sweet vanilla pumpkin, eases into pumpkin mixed with warm chai spices, and finishes with the perfect pumpkin latte mixture of pumpkin syrup, steamed milk, and espresso.
Apple Pickin'
This quintessential Autumnal experience begins with cinnamon sugar dusted donuts, giving way to bushels of red apples, and finishes with a layer of crunchy fall leaves. 
Trick Or Treat!
For the gourmand lovers! The top layer opens up with deliciously buttery caramel popcorn, then a layer of rich vanilla cake, and finishes with cinnamon dusted snickerdoodle cookies.
Soy Wax Tarts
Ghost Puffs
Olde Cider Haus
Pumpkin Eater
Butterbombs
Leaf Pile
Dried leaves and soft Spanish moss.
Marshmallow
Right outta the bag sweetness!
Pumpkin!
Nothin' but ripe sweet pumpkin!
Room & Linen Sprays
Handmade Soap
Pumpkin Gingerbread
The perfect fall treat - rich sweet pumpkin and spicy gingerbread.
Candy Bowl Perfumes!
Banana Taffy
Warm vanilla taffy with an artificial banana kick. 
Candy Corn
Simple, but irresistibly delicious candy corn.
Caramel Apple Pops
Sweet warm caramel and tart apple.
Pumpkin Cake Pops
Just that, lightly spiced pumpkin cake orbs with frosting.
Sweet Violets
Just like the old fashioned violet candies.
Lemon Drops
Bright Californian lemon and pure cane sugar. Yum!
Pink Bubblegum
Bright pink bubblegum happiness.
Salted Caramel
Caramel flecked with coarse sea salt.
Vanilla Taffy
Simple taffy, vanilla flavored. This blend contains vanilla co2 extract.
Chocolate Marshmallow
How do you make a fluffy, puffy, perfect marshmallow even better? Marshmallows lovingly dusted with a layer of cocoa powder. 
Cherry Bomb
Tart wild cherry and pure white sugar. 

Don't see your favorites from years past?  Don't worry!  We have a second round of Fall scents coming to the shop in September!
---