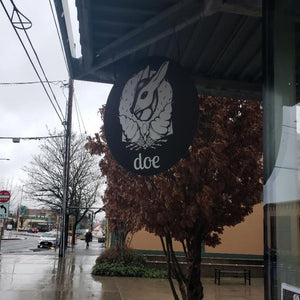 Doe Donuts Reign Supreme!
Portland is known for its Vegan donuts - the world famous Voodoo Donuts started here. But newcomers Doe Donuts are hands down the BEST Vegan donuts in the WORLD.
They just opened their new location in Portland's Hollywood district, so Matt and his partner Heather went to check them out!
One thing that Doe is most well known for is their savory donuts, so we absolutely had to try the Philly Cheesesteak donuts that were on offer that day.  They did not disappoint!  It may have been the greatest thing that we have ever tried.  If you can make it out this way, they should be at the top of your list.
Cheesesteak Donuts!
So good it's worth standing out in the rain to eat them!
They also serve Vegan ice cream and soft serve year round!
Show your donut love with tshirts!
Earl Grey donut!
Sufganiyah are a traditional Channukah treat in Israel.
We had a blast trying all the flavors and will definitely be going back for more!
Check out their website for more information and be sure to check them out if you are in the area!
---