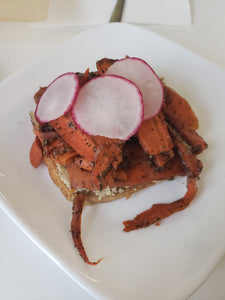 Carina's!
Hey Hausketeers!
Matt here.  I had a chance this week to make it out to one of my absolute favorite places in the Portland area - Carina's Bakery.  Carina's is an all Vegan bakery that specializes in Swedish inspired baked good.  The owner and founder is vision impaired and makes a point to provide opportunities to others with physical or learning challenges.  Being from a Swedish family, the food enough is alone to make me want to make the trek, but knowing you are supporting a Vegan business that supports members of the community who might otherwise not find employment makes it even more special.

Not to mention that the food is AMAZING.  Everything there is so good - I never know what to choose!  This time, my partner Heather and I got pot pie, almond cake, a Christmas scone and the best part - a roasted carrot lox Smorgas!  (A Smorgas is the traditional open-faced sandwich served in Sweden.)
Here's a recipe to make your own carrot lox - I highly recommend it!
The Smorgas!
Pot Pie, Almond Cake & Christmas Scone
They also make "cheesy" biscuits like the famous Red Lobster biscuits, but Vegan.  Unfortunately, it was so good that I had to chow down before I got a picture of it, so here's a picture of yours truly mid-bite.  Lol.
The interior is bright cheerful and decorated in the yellow and blue of the Swedish flag and filled with lots of Scandinavian knick-knacks that give it a very welcoming feel.  The best part, however, is the window under the counter where Sutter, Carina's guide dog, spends his time when he is off duty.  (We caught him mid-nap during our visit.)
If you are local to the Portland area, or have a chance to visit - Carina's should definitely be on your list of places not to miss.  The food is amazing, the staff is warm and inviting and there is nothing better than being able to eat anything on the menu for a change!
---