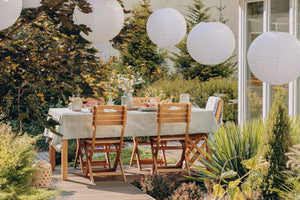 Birthday Garden Party Lineup
You Are Cordially Invited To Our Birthday Garden Party!
The Haus is turning 13(!) this year and we are having a garden party to celebrate. To perfect the mood, we've blended up 7 new scents to compliment our ever popular Haus Birthday fragrance. All items will be available in the shop this Sunday, 4/24 at 9AM Pacific. We'll also be announcing other special surprise treats later this week!
Available in Perfume Oil, Eau De Parfum, Pumpkin Butter, Soft Bubbling Scrub, Sugar Exfoliant, Soy Wax Tarts, Whipped Soap, Hair Oil and Refresher Sprays:
Cottage Flowers
Pretty pink and purple flowers gathered from the garden: lilac, peony, wisteria and sweet pea.
Elderflower Lemonade
Bright California lemons and two varieties of sweet elderflower. 
Haus Birthday
Wild Cascadian huckleberries, buttercream frosting, clove spiced cake and wisps of incense all grounded into a base of our Haus Amber.
Honeydew Mojito
The classic lime and mint cocktail served over cubes of juicy honeydew melon.
Macaron Tower
Tiers upon tiers of delicate French macarons in four flavors: pistachio, peach, raspberry and vanilla.
Strawberry Rhubarb Pie
Sweet strawberries and tart rhubarb baked into a buttery crust.
Sunny Mimosas
Fuzzy mimosa flowers and a fizzy orange and champagne cocktail.
Tonka Bean Tea Cakes
Fluffy little cakes flecked with lightly sweet tonka bean and coated in a delicate sugar glaze.
Handmade Soap:
Haus Birthday
Soy Wax Candles:
Haus Birthday
Elderflower Lemonade
Strawberry Rhubarb Pie
Butterbombs:
Cake!
Tonka Bean & Cream
Lilac, Blackberry & Sage
---
1 comment