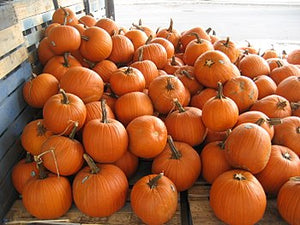 All The Fall!
Hello Everyone and welcome back for another fall at the Haus!
All of your favorite Fall scents will be back in the shop along with our Candy Bowl and Harvest Happy Hour perfume collections.  (Please note - due to changes in component availability, this will be the "last call" for Harvest Happy Hour perfumes as our stock is limited on a number of these blends.)

Fall release day is Sunday, August 27th at 11AM Central Time for all of the items below! We can't wait to see you!

Xoxo,
The Haus

(P.S. We'll have whipped soaps, butterbombs, handmade soaps and some more surprises coming in late September so stay tuned!)
Available in Perfume Oil, Eau de Parfum, Pumpkin Butter, Bubbling Scrub, Sugar Exfoliant, Hair Oil, Refresher Spray, Soy Wax Tarts & Candles:
Apple Milk
Apple pulp, hot milk and cardamom.

Blood Orange Marshmallow
Rich blood orange and fluffy white marshmallows.

Cozy Pumpkin
Fresh pumpkin and our ever popular Cozy Sweater blended together for fall time coziness.

Ghost Puffs
Orbs of buttery popcorn and marshmallow goo, presented on a wooden stick.

Golden Corn Cakes
Corn cake baked to a golden perfection, topped with butter and honey.

Hex
You've been bewitched! Brackish amber, aged vanilla bean and three dark fruits, veiled in darkness and otherworldly secrecy.

Kitchen Witch
Warm zucchini bread and pumpkin cookies, ginger root, aged patchouli, a sprinkling of anise seeds, and bundles of dried herbs hanging from cedar wood rafters.

Little Hedgehog
Spiky chestnuts, autumn leaves, wild mushrooms, and warm brown sugar.

Olde Cider Haus
Old oak, sweet drying hay fields, crushed apple pulp and vanilla husks.

Persephone's Descent
Pomegranate, pale musk, narcissus blossom and black amber.

Pumpkin Eater
Oat milk, pumpkin pulp, vanilla bean, and a tiny touch of nutmeg butter.

Pumpkin Queen
Gentle hay pillows, pumpkin, ripe peaches dusted with clove and nutmeg, dried summer herbs and lastly, a lovely crown of amber.

Red Roan
Fresh strawberry flecked porridge with maple syrup and adulterated with a splash of white cognac.

Samhain
Freshly turned earth, wet leaves, and a cool specter ridden wind!

Scarecrow
Dried corn husks, dust, straw, weathered wood and a ruffle of inky black feathers.

Spider Silk
Procured from a dream: delicate water mint, wispy grey musk, crystalline webs of amber, oakmoss, torchwood, copaiba resin, and a touch of withered violet leaf.


Body Emulsion:
Ghost Puffs
 Orbs of buttery popcorn and marshmallow goo, presented on a wooden stick.
Candy Bowl Perfumes:
(Available in Perfume Oil & Eau de Parfum)
3 Hausketeers
Fluffy nougat coated in milk chocolate.

Banana Taffy
Warm vanilla taffy with an artificial banana kick.

Candy Corn
Simple, but irresistibly delicious candy corn.

Caramel Apple
A bright red apple coated in two caramels.

Coconut & Almond Bar
Creamy coconut topped with toasted almonds and milk chocolate.

Lemon Drops
Bright Californian lemon and pure cane sugar. Yum!

Peach Rings
Sweet & chewy peach rings.

Pink Bubblegum
Bright pink bubblegum happiness.

Pumpkin Cake Pops
Just that, lightly spiced pumpkin cake orbs with frosting.

Root Beer Barrels
Nostalgic root beer hard candy.

Salty Caramel
Caramel flecked with coarse sea salt.

Vanilla Taffy
Simple taffy, vanilla flavored.
Harvest Happy Hour Perfumes (Limited Stock):
(Available in Perfume Oil & Eau de Parfum)

Autumn Shandy
Pumpkin ale and lemonade garnished with apple slices and fall spices.

Brown Sugar Latte
Espresso, creamy vanilla oat milk, and brown sugar syrup.

Chocolate Lavender Tea
Chocolate coated lavender buds steeped in strong black tea.

Dark Fruit Tea
Blackberries, black raspberries, black currants, black tea.

Harvest Wine
Sweet berry wine with blood orange slices and a hint of mulling spice.

Hazelnut Mocha
Dark roast coffee enhanced with dark chocolate and hazelnut cream.

Pumpkin Oatmeal Stout
Pumpkin accord infused into malty oatmeal stout.

Vanilla Pear Punch
Pear juice topped with bubbly champagne, vanilla extract, and a dash of cinnamon sugar.
---