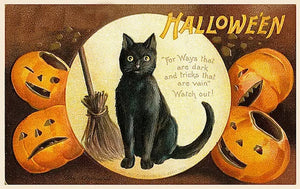 All The Fall At The Haus!
This Sunday is the perfect day to make your ultimate Fall Haul from the Haus!  With cooler temperatures, we are excited to announce the return of whipped soaps and butterbombs!  Additionally, we will be offering FIVE seasonal limited edition bar soaps as well as a new suite of Fall themed candles, tarts and room & linen sprays!
All items will be up in the shop this Sunday at noon Pacific! 
Whipped Soaps!  (We will also be doing FULL restocks of all Fall pumpkin butters!)

Apple Milk
Apple pulp, hot milk and cardamom.

Blood Orange Marshmallow
Rich blood orange and fluffy white marshmallows.

Cozy Pumpkin
Fresh pumpkin and our ever popular Cozy Sweater blended together for fall time coziness.

Ghost Puffs
Orbs of buttery popcorn and marshmallow goo, presented on a wooden stick.

Golden Corn Cakes
Corn cake baked to a golden perfection, topped with butter and honey.

Grimoire
Crumbling pages, leather binding and polished wood.

Hex
You've been bewitched! Brackish amber, aged vanilla bean and three dark fruits, veiled in darkness and otherworldly secrecy.

Olde Cider Haus
Old oak, sweet drying hay fields, crushed apple pulp and vanilla husks.

Persephone's Descent
Pomegranate, pale musk, narcissus blossom and black amber. 

Pumpkin Peach
Chunks of pumpkin with mango and peach, a sprinkle of brown sugar, and a dusting of fenugreek and cardamom.

Pumpkin Queen
Gentle hay pillows, pumpkin, ripe peaches dusted with clove and nutmeg, dried summer herbs and lastly, a lovely crown of amber.

Red Roan
Fresh strawberry flecked porridge with maple syrup and adulterated with a splash of white cognac.

Samhain II 
Freshly turned earth, wet leaves, and a cool specter ridden wind!

Spider Silk
Procured from a dream: delicate water mint, wispy grey musk, crystalline webs of amber, oakmoss, torchwood, copaiba resin, and a touch of withered violet leaf.
Butterbombs!

Soft Lavender
Almond Cream
Vanilla Pumpkin
Marshmallow
Bar Soaps

Apple Milk
Cozy Pumpkin
Pumpkin Spice
Red Roan
Samhain II

Candles/Tarts/Room & Linen Sprays:

Tobacco, Resins, & Clove
Fresh tobacco, sticky resins and a drizzle of warm clove.

Woodland Sanctuary
Vanilla oak, soft sandalwood, rich amber, and a soft woolen blanket.

Rain-Soaked Lichen
Autumn rain, delicate lichen, fir needle, and cedar.

Chai Spiced Bread Pudding
Buttery bread swirled with chai spices then soaked in rice milk and topped with brown sugar.
Shop Fall Room & Linen Sprays!

Bathbombs (new and improved!):

A Place In Space
A silvery lavender, nag champa, dry amber incense and faded patchouli.

Moon Dog
Solar storms erupt: cracked coconut, dry sandalwood essence, heated with nutmeg and clove.

Satyr
Absolutely fiendish creature! And quite frolicsome: Italian blood orange drizzled with blackened vanilla.

Troika
A trinity of soft milks, almond, oat and coconut, lashed with sweet agave nectar and the ethereal scent of clean white.


Fall Perfume Sets!

Queen Mother Returns!

A very special blend that is created early in the year and left to rest into perfection. She starts with a base of last years Pumpkin Queen oil and this year's additions include notes of frankincense, carnation, and mahogany.

Since there's no replacement for the aging process, when she's gone - she's gone. Supplies are limited!

The Horseman
Autumn woods, worn leather, warm musk, and a distant thread of woodsmoke.  

Scarecrow
Dried corn husks, dust, straw, weathered wood and a ruffle of inky black feathers.

The Candy Bowl (Perfume Only)

Banana Taffy
Warm vanilla taffy with an artificial banana kick.
 
Candy Corn
Simple, but irresistibly delicious candy corn.

Caramel Apple Pops
Sweet warm caramel and tart apple.

Sweet Violets
Just like the old fashioned violet candies.

Lemon Drops
Bright Californian lemon and pure cane sugar. Yum!

Pink Bubblegum
Bright pink bubblegum happiness.

Salted Caramel
Caramel flecked with coarse sea salt.

Vanilla Taffy
Simple taffy, vanilla flavored. This blend contains vanilla co2 extract.

Pumpkin Cake Pops
Just that, lightly spiced pumpkin cake orbs with frosting.
Shop Candy Bowl Perfumes!

Pumpkin Patch (Perfume Only)

Pumpkin Ice Cream
Homemade custard style pumpkin ice cream.

Pumpkin Rose
Soft rose, vanilla bean, and pumpkin accord.

Pumpkin Incense
Amyris, pumpkin accord, and dragon's blood incense.

Pumpkin by the Bonfire
Pumpkin accord with crackling timber and smoke.

Pumpkin Marshmallow
Two great smells the smell great together, fluffy marshmallow and pumpkin accord.

Pumpkin Oatmeal Stout
Pumpkin accord infused into malty oatmeal stout.

Pumpkin with Sage & Moss
Clary sage and pumpkin accord on a bed of soft green moss.

Pumpkin & Precious Resins
An intoxicating blend of frankincense, myrrh, and benzoin swirled together with pumpkin accord.


---
1 comment